Language
English is one of the three most widely spoken local languages on the island. Many local Balinese are actually bilingual or trilingual giving you piece of mind that nothings been lost in translation.

Beautiful Sunsets
Being a large island, Bali has many different aspects to enjoy the beautiful sunsets. From the beach to the cliffs, you will enjoy red, pink, orange and blue hues painted on the sky.

Value for Money
Bali has developed a strong international reputation for being a beautiful holiday and wedding destination over the last two decades by representing incredible value for money. You can lock in a great wedding package experience for a fraction of the price you'd pay anywhere else in the world.

International Airport
Denpasar International Airport is located in the heart of Bali, making travel to the island a breeze. Once there, you can reach most popular areas within an hour by car.

Everything's here
Bali is one of the largest tourist areas in Asia, even compared to Phuket in Thailand. This makes it great with lots of choice of hotels, unique wedding experiences and things to do. From the famous beaches in Nusa Dua to the lush rainforests and mountains in Ubud, you'll find what you're looking for.

Stunning Cliffs
Bali has amazingly wide and stunning views of the sea and beach from towering rocky cliffs. The extremely elevated view of the beach, sea and sand from some of our top venues has even left us breathless at times.
About Bali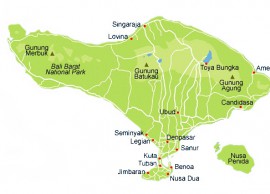 Known as the "Land of Gods", Bali is the most famous island in Indonesia, and offers a magical blend of natural mountain scenery, beautiful beaches and vibrant culture.
Even after decades of popularity in the ever-changing world, Bali continues to be recognised as a premier destination for all travellers. In 2009, Bali took Travel & Leisure Magazine's award for the "World's Best Island" and ranked second in Lonely Planet's Best of Travel 2010 among the world's Top Regions.
However when you visit, its not hard to understand why. Just as quickly as you find yourself relaxing on the beach with a margarita, you could find yourself hiking through picturesque rainforests or succumbing to a day long massage and spa. All this before your yoga class.
Balinese draws its energy from a culture that embraces tradition through its arts, dances, architecture and most importantly through its people. This is easily one of our favourite wedding destinations and recommend that you have a look through the wonderful venues we have to offer here.