Language
English is widely spoken here allowing you and your guests to communicate easily from exchanging your wedding requirements to hotel staff to asking for directions.
Beautiful Sunsets
Beautiful sunsets accompanied with smaller islands in the horizon can be watched from many locations on the west side of the island.
Value for Money
Even though Phuket is more developed than other locations in Thailand, it still possesses the affordability common to other exotic places in Asia. Thus you can lock in a great wedding package experience for a fraction of the price you'd pay anywhere else in the world.
Great Transport
Phuket has an international airport allowing you and your guests to easily get there and away. It is also a domestic hub allowing you to travel direct to other beautiful destinations such as Chang Mai, Koh Samui and Krabi.
Small Island
Many of Phuket's top attractions are all around the same area in the mid west of the island. This makes it much more convenient to meet up with your guests when needed.
Activities
There are many activities and tours available for your guests to enjoy before or after the wedding. Whether it be sun baking on one of the twenty four beautiful beaches, hanging out for a bargain at the markets or enjoying the nightlife in Patong, Phuket has it all. There are also many tours to islands close to Phuket including Koh Phi Phi.
About Phuket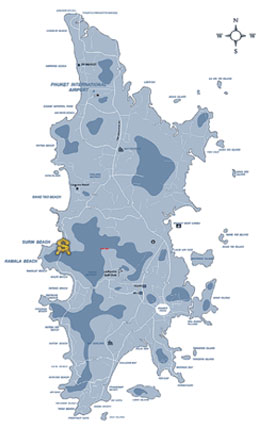 Dubbed 'Pearl of the South' by the tourist industry, Phuket is a whirl of colour and cosmopolitanism. Swanky and seductive, it's where the rich come to play. A province unto itself, the 810 sq km island is Thailand's largest, wealthiest and most visited place.
Spectacular scenery, stunning tropical sunsets and warm blue sea awaits you at Asia's most popular beach destination. It features jagged coastal terrain, rocky peninsulas, sandy bays, tropical vegetation and the ubiquitous limestone cliffs found throughout the region.
Phuket is filled with a wide range of amazing first class resorts offering a diverse range of wedding locations and types for you to hold your special day in. There is also much accommodation and activities available to suit all of your guests' budgets, so they don't have to spend more than they want.