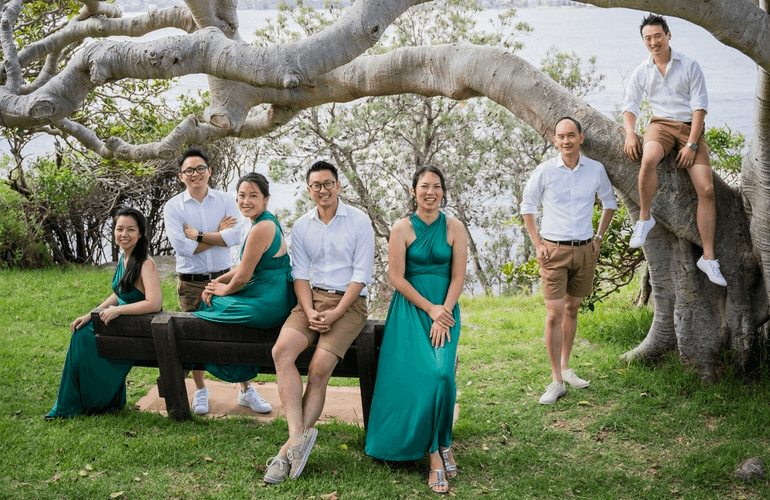 The story began in 2011 with 3 highly-spirited friends – Michelle Honda, Timothy Chen, and Roy Liao. They were all close to their 30s and well on their way to building their careers and climbing the corporate ladder. Another thing they had in common was they were also planning their weddings overseas at around the same time.
Michelle and Tim were getting married in Phuket, while Roy was busy organising wedding receptions in Taiwan and Singapore. More and more they found they shared the same time-consuming pain, stress and frustration from organising their once-in-a-lifetime event overseas.
But after enduring all the ups and downs, their weddings far surpassed their expectations (see Michelle & Tim's video below).
For Tim and Michelle it was much more than just a wedding. Without knowing, their wedding overseas had pulled their friends and family out of their busy day-to-day lives, and brought them together in holiday-mode for a week. Everyone was fully present, chilling out, reconnecting and having fun together. Best of all the wedding put the focus back on each other and left a lasting impact on everyone.
However getting married overseas was not easy, where Michelle & Tim almost gave up. While their own wedding experiences were now complete, the 3 friends had no doubt they could help other couples avoid these unnecessary frustrations.
They passionately believed that a wedding overseas did not have to be difficult or time consuming. So armed with a just cause and an amazing opportunity, they embarked on a journey to create the simplest and most effortless way for couples to have their dream wedding overseas.
Fast forward to today's digital world where people are less connected than ever before, My Overseas Wedding is in the business of bringing people together. We take couples and their loved ones away from their busy, online-heavy, day-to-day lives and get them into holiday mode. It's a place where everyone's fully present, hanging out and having fun together like we used to – without phones.
Now together with a growing number of trusted partners and never-ending innovation, our team at My Overseas Wedding are ready to help you fast-track your dream wedding experience.