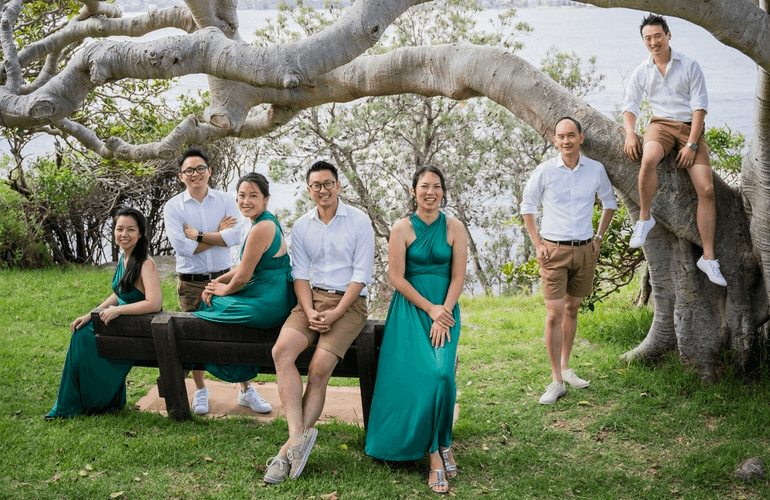 It all started with 3 friends
The story began in 2011 with 3 highly-spirited friends – Michelle Honda, Timothy Chen, and Roy Liao. They were all close to their 30s and well on their way to building their careers and climbing the corporate ladder.
Michelle was an architect working at a beach-side boutique architecture firm in Cronulla, one of Sydney's most popular beaches. Tim worked in IT Audit at Pricewaterhouse Coopers and then Westpac, one of Australia's leading banks. And Roy was managing the IT environment for MicroPace, the world's number 1 supplier of EP Cardiac Stimulators.
They wanted something special for their weddings
They were also coincidentally planning their overseas weddings at the same time. All three loved travelling and wanted something different for their weddings. Michelle and Tim were getting married in Phuket, while Roy was busy organising wedding receptions in Taiwan and Singapore.
It was hard but the experience overseas blew them away
More and more they found they shared the same pain, stress and frustration from organising their once-in-a-lifetime event overseas. But after enduring all the ups and downs, their weddings were amazing – far surpassing their expectations (see Michelle and Tim's video below).
It left a lasting impact on everyone
For Tim and Michelle it wasn't just about the wedding. It was about the week before and travelling together after that made it so special. Without realising, their wedding overseas had pulled their friends and family out of their busy day-to-day lives, and brought them together in holiday-mode.
Everyone was fully present, chilling out, reconnecting and having fun together. With new experiences each day and an extraordinary celebration to finish, it all worked out perfectly.
Best of all, the time together really put the focus back on each other and showed how much everyone valued disconnecting and experiencing life together. As one of the groomsmen, Roy experienced it too. It left a lasting impact on everyone, well after returning home.
They became deeply inspired to share this with more couples
Michelle, Tim and Roy knew none of this would have happened without the wedding. No one would have flown from all around the world and made time in their busy schedules. However getting married overseas was really challenging and Michelle & Tim almost gave up.
So while their own weddings were now done, the 3 friends had no doubt they could help other couples avoid missing out on this truly memorable experience with their loved ones. To do this, they needed to make overseas weddings simple and easy to organise anywhere in the world.
My Overseas Wedding was born
Armed with a just cause and an amazing opportunity, they embarked on a mission to create the simplest and most effortless way for couples to have their dream wedding overseas. To bring the full experience together, they began planning weddings and also created Guest Packages to make the experience seamless for their clients' friends and family.
Fast forward to today's digital world where people are less connected than ever before, My Overseas Wedding brings people together. They take couples and their loved ones to a place where everyone's fully present, hanging out and having fun together like they used to – without distractions.
They still have wedding specialists in their team, however no longer provide wedding planning services. They now focus on helping more couples through their online platform while leaving the wedding planning to their venue partners' very capable wedding teams.
Bringing together the world's best experiences
Their wedding services earned them a strong reputation as wedding experts in Asia. They were invited by Thailand Tourism to represent Thailand for weddings at Australia's largest wedding expos and also approved by the Australian Government as an official Australian Supplier.
Following their success in Asia, they expanded to more locations around the world and helped thousands of couples with their dream wedding experience. Now with a growing number of trusted partners and never-ending innovation, the team at My Overseas Wedding look forward to bringing more people together to share memorable life experiences.