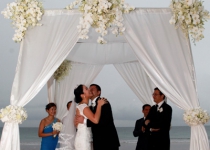 Jennie & Angelo's Wedding
What made you decide on Thailand for your wedding? Had you been there before?
Thailand has so much to offer – from the weather, the culture, the beaches, the value for money, the welcoming atmosphere. It's the perfect destination for people to attend a wedding and simultaneously enjoy a holiday.

Once you had chosen Thailand, why did you choose Aleenta?
We were eager to hold our wedding at a resort offering a private and exclusive beach and wedding area, where we did not have to have our intimate ceremony
viewed by other guests or even guests at other resorts along the bay. Aleenta was perfect for this – it has beautiful villas with private pools while the stunning, secluded beach is located directly in front.
What was your initial approach to Aleenta and how did they respond?
First we looked at its excellent website and emailed our request. The resort's wedding planner became our contact person and we held several Skype conference calls; responses were always prompt, which gave us immediate confidence in the resort's abilities.
Did you utilise the wedding planner at Aleenta?
Yes. We planned our wedding with the planner who became a great help to us throughout the whole process. As we hadn't visited Aleenta prior to the wedding it was great to receive this help because they knew the place inside out and gave us a wealth of interesting ideas. We also gave our suggestions and the resort was extremely co-operative and accommodating of them.
How many guests did you have coming to your wedding? Did they enjoy it?
We were able to host 70 guests at our Aleenta wedding, and absolutely everybody enjoyed the day and the time they spent around it.
Were you offered a choice of wedding packages or did Aleenta tailor-make all of your wedding arrangements?
Aleenta understood all our special requests so we could tailor-make our special day exactly how we wanted it with the resort's help.
How long did it take from beginning to end to plan the wedding? How helpful were Aleenta in quick turn-around times and any changes you wanted to make?
The turnaround was quick – around three months – and yet so professionally done. Everything went really well.
How helpful were the staff? Was there any particular aspect of your wedding where the staff were particularly helpful?
Our butlers were fantastic. They helped me, the bride, in every aspect, as if they were my actual family. Even during the wedding they knew exactly what I needed before I had even asked for it.
How did you choose the food and beverage for your wedding – did Aleenta cater for everything? What food and beverage did you have and how would you rate it?
The food and beverage was extremely good. Both us and our guests were very happy with the menu on the wedding day.
Run us through your special day from start to finish – what part of the hotel did you use for the ceremony/ dinner/ evening party?
Two nights before the wedding we met up with our guests at the resort's bar for cocktails – the drinks were lovely. Following this, we held a private barbecue party for 40 at Grand Villa Satis, one of the resort's private villas, which was brilliantly organised and delicious.
On the wedding day itself we also used Grand Villa Satis for the ceremony, beautifully decorated in white and surrounded by orchids. The after-party took place around the pool, complete with DJ and special lighting set, which made it the most memorable day of our lives.
Was it value for money?
Absolutely. In terms of the amazing venue, privacy, luxury, wonderful location, great food, helpful organisers and staff it was extremely affordable and great value.

21 March 2011